In early April, Australian Foreign Minister Penny Wong reportedly held constructive talks with China regarding the trade restrictions on Australian barley initiated in mid-2020. The Australian Foreign Minister agreed to temporarily suspend Australia's World Trade Organisation (WTO) trade dispute with China over barley (1). In return, China committed to expeditiously review the additional tariffs of 80.5% levied on Australian barley over the next three months (2). This commitment raises hopes that trade restrictions on other Australian products such as wine, rock lobsters and timber could be removed or relaxed. 
It appears there is pressure within China to relax the trade restrictions. The Australian Financial Review has reported the China Alcoholic Drinks Association (CADA) has argued the additional tariff on Australian barley should be removed. Imposing additional tariffs on barley has put pressure on both Chinese producers that use barley as an input and Chinese consumers who have to pay more for products containing barley. According to CADA, the average price of imported barley in China, at 356.30 Yuan per tonne in 2022, was 53% higher than the average price in 2020. 
Australian barley production and exports
By volume, barley is Australia's second largest crop, with 14,137 kt in 2022-23, behind wheat production with 39,190 kt (3). Western Australia is the major barley growing state with 39.6% of total production, followed by South Australia (20.5%), Victoria (20.5%), and New South Wales (16.1%) in 2022-23. Queensland accounts for only 2.9% of barley production. 
Around two-fifths of barley production is used domestically and three-fifths is exported. Figure 1 shows that barley production is used for domestic consumption (about 42.3% of what was produced from 2011-12 to 2021-22, on average) and overseas sales (about 57.7% on average). The exports can be divided into feed barley for livestock such as cattle (68.8% of total barley exports, on average, from 2011-12 to 2021-22) and malting barley for food and beverage production (31.2% on average).
Figure 1. Australian barley production: domestic use and exports 
Source: ABARES. Prepared by Adept Economics.
China was once the major buyer of Australia barley, accounting for 46% of total exports in 2019, but that is no longer the case. Figure 2 shows the major destination markets of Australian barley (including seeds, feed and malting barley) are Saudi Arabia with AUD 1,396 million and Japan with AUD 506 million, both markets accounting for 56% of the total barley exports, in 2022 (4). Moreover, it is clear how the additional Chinese tariff of 80.5% acted as a restricted measure on Australian barley exports to China which have vanished since 2021.
Figure 2. Australian barley exports by major destination markets 
Source: Trade Map. Prepared by Adept Economics.
Despite the Chinese trade measures on barley, the value of Australian barley production and exports have increased substantially since 2019-20, mainly due to soaring barley prices. Figure 3 highlights the substantial increasing price for domestic use (57.6% between 2022-Q4 and 2020-Q4), Australian export barley for feed (81.3%) and malting (38.6%), and international price for feed barley (43.0%). 
Figure 3. Australian and international barley prices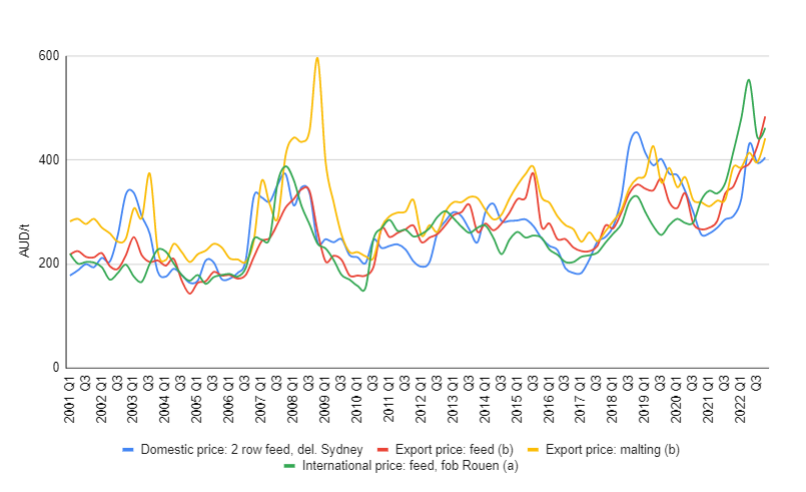 Source: ABARES; ABS; CME Group; Farm Weekly; IGC; The Land; The Weekly Times; USDA. Prepared by Adept Economics.
Notes: (a) Average of daily offer prices made in US dollars and converted to Australian dollars using quarterly average of daily exchange rates. (b) Export unit values reflect the average price received for grain exported over the quarter, not current market prices. These prices are the average unit values (free on board) of Australian exports recorded by the Australian Bureau of Statistics. A long lag time can exist between when exporters negotiate prices and when the product is exported.
Chinese trade restrictions in 2020
The Chinese measures immediately caused negative impacts on Australia's exporting sector, as noted by a study (5) from the University of Adelaide of eight affected Australian products: coal, copper ores and concentrates, frozen beef, wine, cotton, barley, timber, and rock lobster. This study estimated that total export revenue shrank by $6.6 billion between July 2020 to February 2021, compared with previous periods. 
The adverse impact of China's barley trade restriction was rapidly offset by diversion of exports to other markets and by the surge in the global barley price in late 2021, particularly those which were importing less barley from Russia or Ukraine after the Russian invasion in February 2022. Australia's barley exports were reallocated to other destination markets such as Saudi Arabia, the new biggest Australian barley's buyer, Vietnam, Kuwait, Qatar, Philippines, Mexico, and Jordan, between 2021 and 2022. 
A new hope
Although the Chinese trade restriction on Australian barley negatively affected the industry in 2020, Australian barley exporters found new destination markets and producers benefited from a surge in global barley prices associated with global economic recovery from the pandemic and the Russian invasion of Ukraine in the 2021-22 financial year. These factors in the global barley market defeated the Chinese intention to inflict economic pain on Australia and now there is new hope for Australian producers for regaining the access into the colossal Chinese market.
Published on 28 April 2023. This article was prepared by Adept Economics Economic Researcher Arturo Espinoza and Director Gene Tunny. For further information please get in touch with us via contact@adepteconomics.com.au or by calling us on 1300 169 870.